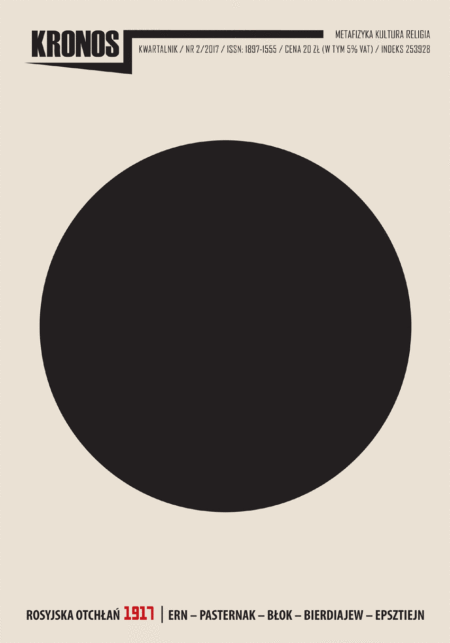 2/2017
ROSYJSKA OTCHŁAŃ 1917
projekt okładki:
Tomasz Bardamu
Tomasz Herbich
WŁODZIMIERZ ERN'S PROGRAM FOR RUSSIAN PHILOSOPHY. AN INTRODUCTION
Włodzimierz Ern, one of the most important representatives of the Russian religious-philosophical renaissance, died a hundred years ago, on April 29th, 1917. Although he was a key cultural figure in Russia between the years 1905-1917, the impact of his thought is still underestimated and neglected by scholars, both in Poland and Russia.

Piotr Nowak
EVERYONE AND THE ONE
Poetry is life, it is not simply polished form or spurious ornament. It belongs to life's very essence and as such does not have to seek justifications for its existence, just as life itself does not have to account for itself. Pushkin glimmers with all the hues of life. He embraces life in all its aspects and – as Vasily Rozanov once said of him – "would feel fine even in prison".

Dawid Samojłow
ON B. PASTERNAK'S POEM WINTER NIGHT
Why does Pasternak's captivate us? Why did it become more famous than many other indictments and poetic definitions of the 20th century? Is it because of its allegorical potential? Definitely not. It must be stressed that there is nothing in this ingenious poem which could be interpreted allegorically.

Olga Siedakowa
"THE POET'S COMMISSION": TOWARDS A POETICS OF PASTERNAK
The title of this essay points towards one basic problem: the place of the poet within the structure of the state. The prosaic or even bureaucratic label refers here to that which was formerly known as "the poet's mission", rather than "commission"; his "calling" or even "destiny".

Michaił Naumowicz Epsztiejn
POETRY AS ECSTASY. POETRY AS INTERPRETATION. B. PASTERNAK AND O. MANDELSTAM
Mikhail Bakhtin's well-known statement that culture is born at the boundaries of cultures is substantiated by the experiences of the 20th century – a century of "crossbreed" writers who combine in their work different languages and traditions. Who is Kafka? A Czech writer, an Austrian one, German, or perhaps Jewish? Who is Nabokov: a Russian-speaking American author, or an English-speaking Russian one? His intricate, multilingual art is a melting pot of many cultures.

Daniel Wańczyk
NIKOLAI BERDYAEV, PICASSO AND THE DEMISE OF THE WEST
Berdyaev wrote the essay Picasso in 1914 after a visit to Sergei Shchukin's gallery in Moscow. It is likely that he saw the exhibition in the company of Sergei Bulgakov who that same year and prompted by the same paintings wrote the essay Beauty's Corpse. Both authors begin by pointing those aspects of Picasso's art which fascinate them, although both are radically critical.

Anastasija Gaczewa
FYODOR DOSTOYEVSKY AND NIKOLAI FYODOROV. A DIALOGUE BETWEEN RUSSIAN LITERATURE AND PHILOSOPHY
There are many examples of friendship between contemporary authors, but it also happens that geniuses who live at the same time and in the same place, and who share many insights, never meet in person. This was the case with Dostoyevsky and Nikolai Fyodorov, "the Scocrates of Moscow" and author of the Philosophy of the Common Task. Nevertheless, they knew each other's work and influenced each other's ideas. Their indirect friendship bore fruit in the later course of Russian culture.

Natalia Rostowa
RUSSIAN LITERATURE: PHILOSOPHY BEYOND THE BOUNDS OF PHILOSOPHY
Russian philosophy has one distinguishing characteristic: it locates itself beyond the bounds of traditional philosophy – in literature, painting, Christian asceticism. Also the Russian of avant-garde of the early 20th century can be viewed in such a way. In this article we take as our examples the two pillars of Russian literature – Dostoyevsky and Tolstoy – and argue that both embrace the idea of the constitutive role of God in relationship to the phenomenon of "man".

Igor Jewłampijew
THE IDEA OF NON-CLASSICAL METAPHYSICS IN RUSSIAN PHILOSOPHY OF THE EARLY 20TH CENTURY (SEMYON FRANK, NIKOLAI BERDYAEV, LEV KARSAVIN)
The end of the 19th and the beginning of the 20th century saw a radical shift in European philosophy. Non-classical thinkers, most importantly Nietzsche and Bergson, developed radical critiques of classical philosophy. In reaction to this, Russian thinkers came to the conclusion that in order to work out an entirely new, modern metaphysics it was necessary to revive an old tradition which had previously been marginalized due to the dominance of the Church. In Russia this philosophical tradition started regaining popularity as early as the beginning of the 19th century and was then picked up by Russian 20th century thinkers when they started developing new metaphysical concepts.

Fiodor Girenok
DANIIL KHARMS: FROM THE PERSPECTIVE OF THE ARCHEO AVANT-GARDE
Russian philosophy is born as literature. If, from the very outset, it was born as literature, it would not differ in any way from European metaphysics and we would not need Solovyov's visionary works thanks to which it came to function as philosophy. Until this very day we would simply follow the dictates of European philosophy without once thinking to consider ourselves.

Władimir Warawa
THE CENTRALITY OF LITERATURE IN RUSSIAN PHILOSOPHY: NOTES ON ANDREI PLATONOV
Contemporary studies in Russian philosophy significantly broaden their scope and include in its context previously neglected names and concepts, offering new models of interpretation. In this light, Andrei Platonov emerges as one of the most radical representatives of Russian philosophical literocentrism.

Kamil M. Wielecki
THE ECONOMIES OF EVERYDAY LIFE, OR ARISTOTLE IN KRASNOYARSK
Although much has been written on the topic, it is still difficult for us to grasp the scale of the crisis which engulfed Russia after the collapse of the Soviet Union. Scholars, mostly economists and political scientists, have focused on system changes and the functioning of large urban centers in the European part of the country. We know very little, however, about the challenges which this transformation posed to the underprivileged masses of people living in faraway provinces.

Anna Dziedzic
MARIAN ZDZIECHOWSKI AND STANISŁAW BRZOZOWSKI'S CATHOLICISM
Marian Zdziechowski's book The Glorification of Labor. A Commentary on Stanisław Brzozowski's Writings prompted radically different responses. Some critics have pointed to Zdziechowski objectivism in his attempt to capture the essence of Brzozowski's thought, despite crucial ideological disagreements. Others, however, set out to prove that Zdziechowski misinterprets Brzozowski's philosophy entirely.