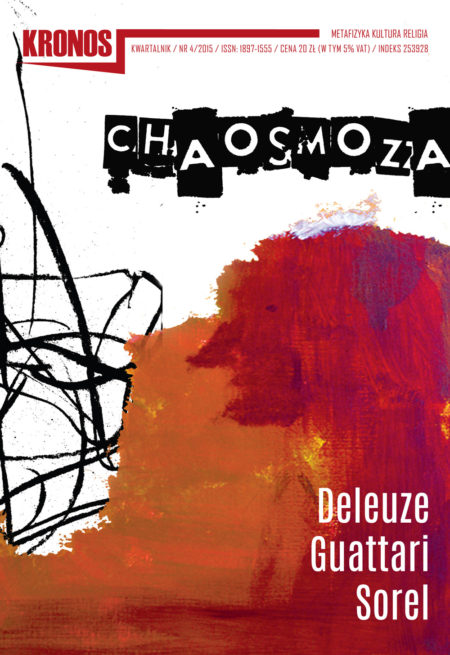 4/2015
CHAOSMOZA
projekt okładki:
Krzysztof Chara
Cezary Rudnicki
DELEUZE AND GUATTARI ON TWO PERILS
In his article Cezary Rudnicki points to a recurrent theme in the collaborative works by Deleuze and Guattari: the negative occurrences, immanent to every structure, as a result of which it ceases to function. Rudnicki discusses this problem in relation to systems of thought, the body and society. He stresses that the immanence of these "maladies" makes them detectable only through a purely theoretical effort. From the "empirical" perspective they are merely malfunctions, effects of a constructional flaw. Rudnicki demonstrates, however, that they are not simply imperfections but that they are ontologically unavoidable: it is impossible to create a structure free of internal perils.

Marcin Dolecki
REFLECTIONS ON BEING
In his article Marcin Dolecki discusses the problem of the relation between the Absolute and the world (as one of many possible worlds), and what can be meaningfully said about this relation. He intentionally presents his considerations from a highly subjective perspective. The author`s pictures (two drawings) have been added as metaphorical renderings of some of his theses.

Piotr Kostyło
ALAIN BADIOU ON CONTEMPORARY FRENCH PHILOSOPHY
Piotr Kostyło discusses Alain Badiou's interpretation of contemporary French philosophy as presented by him in a lecture given at a conference in Buenos Aires on June 1, 2004. He then offers a commentary on Badiou's lecture, not in order to take issue with it, but to illustrate and supplement it. Apart from making references to Henri Bergson and Émile Durkheim, Kostyło points out pedagogical themes in Badiou's thought: the importance of the interrelation between philosophy and education.

Dorota Rybicka
THE LIMITS OF MORALITY. DURKHEIM AND BERGSON ON THE RELATION BETWEEN THE INDIVIDUAL AND SOCIETY
In her article Dorota Rybnicka poses the following question: Under what circumstances can the individual act in violation of established moral norms? Her answer is presented in three parts. The first is an analysis of the relation between the individual and society as presented by Émile Durkheim in his posthumously published book Moral Education (1925) where he stresses the dangers connected with individualism and the decay of social bonds. In the second part of the article, Rybnicka employs Durkheim's ideas to analyze some well-known literary and historical instances of the confl ict between the individual and society. Part three compares Durkheim's moral philosophy with that of Henri Bergson.

Piotr Graczyk
THE MYSTICISM OF OPENNESS VS. THE DIALECTICS OF CLOSURE
In his article Piotr Graczyk claims that Meillasoux, just like Plato, is a mystic of openness, whereas Nietzsche – a dialectician of closure. Whoever emerges from the cave and shatters the wall dividing him from the supposed truth, does not – according to Nietzsche – become a Superhuman but a Last Man. Last Men die because they are exhausted by the ubiquity of images to which they are indifferent, not because they are driven mad by their intensity. When the Last Man disappears, his place is taken by installations regulating post -human transactions – their mechanism can do without man altogether. Graczyk claims that contemporary capitalism is gradually becoming such a mechanism.

Jan Tokarski
ON NICOLA CHIAROMONTE'S NOTEBOOKS
Jan Tokarski discusses Nicola Chiaromonte's Notebooks, pointing out the most important sources of inspiration of this forgotten Italian philosopher, among them – the Ancient Greek concept of Moira, the punishing hand of Fate, which Chiaromonte employs in his original interpretation of contemporary Europe's ailments. Above all, Tokarski presents the Notebooks as a work of a man torn between the need of distancing isolation, which brings clarity of insight, and the fear of loneliness and being misunderstood.

Michał Otorowski
A FEW REMARKS ON THE FINAL VERSION OF JAN POTOCKI'S THE MANUSCRIPT FOUND IN SARAGOSSA
Michał Otorowski comments on the recent publication of the Polish translation of an alternative version of Jan Potocki's The Manuscript Found in Saragossa. He takes issue with François Rosset and Dominique Triaire who favor the alternative version, pointing to the inaccuracies, deficiencies and partiality of their arguments.