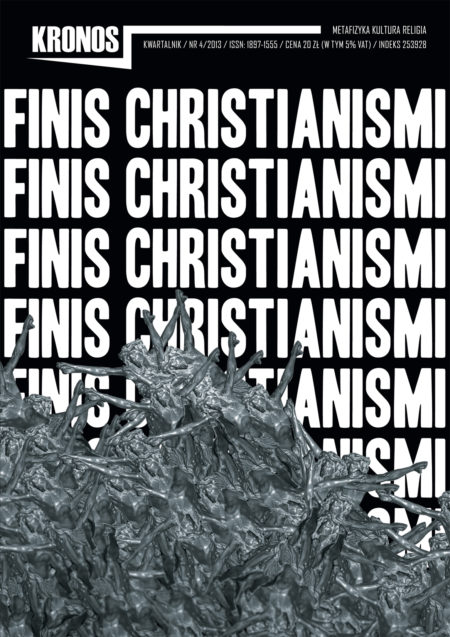 4/2013
FINIS CHRISTIANISMI
projekt okładki:
Tomasz Bardamu
Martin Henry
CAN THEOLOGY SURVIVE IN THE MODERN WORLD?
This article addresses the question of theology's viability in today's world by considering Franz Overbeck's critique of the Christian tradition. He is an alluringly paradoxical figure. Despite holding a chair of theology in Basel, he contended he had inherited a tradition that had reached its end -point, yet he remained a persistent critic of fellow -theologians who in his eyes were betraying this very tradition. Like his friend Friedrich Nietzsche, he believed that the fate of Christianity in the modern age was not only a theoretical issue but an existential dilemma. Overbeck's unique legacy is still a vital force in the West's continuing debate about the meaning of its Christian tradition.

Arie Nabrings
THEOLOGY BETWEEN MYTH AND REFLECTION. THE DIAGNOSIS OF FRANZ OVERBECK
Franz Overbeck crticised the way in which theology treated myth, rejecting its significance to theological doctrine, while at the same exploiting its content. According to Overbeck, this attitude toward mythology is a symptom of modernity's detachment from Christianity. In her essay, Arie Nabrings insists that in order to understand Overbeck's thought we must analyze his response to Nietzsche's treatment of the problem of faith and knowledge. Science forces man to question himself and yet provides no final answers, leading to a relativization of values, especially – the value (or "meaning") of human life itself. Nietzsche's solution to the problem was the "transvaluation of all values." Overbeck accepted the situation as inevitable, became skeptical and rejected faith. Faith should be simple, childish and naive. It should be rooted in myth and legend. Theology's depreciation of myth led to a crisis of Christian faith; theology does not understand religion which is primarily a certain vision of life, and as such is akin to myth. Faith expresses itself through myth and is dependent on it. A purely historical treatment of myth by theology negates its evangelical message and turns faith into knowledge.

Andreas Urs Sommer
THOMAS MANN AND FRANZ OVERBECK
The paper deals with the hidden relation between the famous German writer Thomas Mann and Franz Overbeck. It turns out that Mann was well aware not only of Overbeck's influence on Nietzsche, but also of his importance as an independent thinker. Particularly the narrator figure in Mann's novel Doctor Faustus is partly modeled after Overbeck and his skeptical world view.

Piotr Augustyniak
WALTER F. OTTO, OR HOW THE ANCIENT GREEKS SAW THEIR GODS
Piotr Augustyniak discusses Walter Friedrich Otto's (1874–1958) interpretation of the Homeric religion and – more broadly – of the ancient Greek understanding of divinity. Otto points to the unity of nature and spirit as distinctive of the Greek way of thinking. He also discusses the connection between Greek deities and eternal forms which gives Otto's project a distinctly Platonic character. Particularly important in this context is the notion of Gestalt which – according to Augystyniak – is central to Otto's theory and allows him to transcend the Christian conception of God as a person.

Dawid Nowakowski
PRISCA THEOLOGIA AND ITS MEANING IN MARSILIO FICINO'S METAPHYSICAL SYSTEM
The notion of prisca theologia as a form of eternal philosophy played an important role in the thought of Marsilio Ficino (1433–1499). It was understood by the Italian philosopher not only as a historical proposition, but also as a program of renewal and a Renaissance utopia. He traced the beginnings of this ancient idea to the Persian magus Zoroaster, but he found its fullest expression in the teachings of Christ to whom – as we read in the Gospel of Matthew – three Magi from the East paid tribute. This belief in an essential unity of pagan and Christian teachings, of the Eastern and Western outlook, stood behind Ficino's grand philosophical project which he pursued in his Theologia platonica. Contemporary scholars offer conflicting opinions on prisca theologia's precise line of transmission. In his essay, Dawid Nowakowski presents the views of four scholars (Schmitt, Kristeller, Hankins, Idel) and suggests his own answer which might reconcile the existing theories on a higher, transhistorical level.

Michał Herer
PLEASURE OR DESIRE?
In his essay Michał Herer reconstructs a "virtual" philosophical quarrel between Gilles Deleuze and Michel Foucault. Although the two thinkers were kindly disposed to one another (each wrote extensively on the other's ideas and found inspiration in them), there existed a serious difference between them which Herer alludes to in the title of his text. Foucault in his counterattack on the instruments of power relied on "the body and its pleasures", while holding that the hermeneutics of desire was in fact a technique of subjugation at least since the advent of Christianity. Deleuze, on the other hand, followed with great interest the meanderings of desire and considered pleasure to be a force which constrains desire or even suppresses it altogether. Is this quarrel purely verbal or does it point to two entirely different ontologies which may find expression in diverse political strategies?

Magdalena Saganiak
FROM NEGATION TO ENTROPY: SOME REMARKS ON MATEUSZ WERNER'S CONFRONTING NIHILISM [WOBEC NIHILIZMU]
Magdalena Saganiak discusses Mateusz Werner's book Confronting Nihilism [Wobec nihilizmu] – a study of nihilist theories and attitudes in Western Culture from the late 18th century to present times. Saganiak focuses on Werner's analysis of the construction of the modern subject in the works of Witold Gombrowicz. She takes issue with Werner's view that the modern conception of the subject necessarily implies nihilism, and points to such descriptions of modernity which eschew this problem.

Bronisław Świderski
GOMBROWICZ AND KIERKEGAARD
The Polish writer and atheist Witold Gombrowicz (1904–1969) often referred to the Danish religious thinker and theologian Søren Kierkegaard (1813–1855). Trying to find a reason for the connection, Bronisław Świderski compares in his essay Kierkegaard´s journals with two of Gombrowicz´s diaries – the first, Dziennik was published between 1950 and 1960; the second, Kronos, in 2013. Świderski discusses 5 pairs of topics in Kierkegaard and Gombrowicz: sex & love, pain & suffering, faith & religion, the writer -reader -relation, and democracy vs. the individual.

Anna Dziedzic
MAURYCY STRASZEWSKI AND THE RELIGION OF ETERNAL RECURRENCE
In 1906 Maurycy Straszewski (1848–1921) wrote an article about Friedrich Nietzsche in which Nietzsche's idea of the eternal recurrence of the same was interpreted as a dogma of a new religion. Straszewski treated Nietzsche's religion as a sign of the times in which positivist scepticism is dismissed and the need for some kind of metaphysics and religion develops. As a Catholic disciple of Rudolf H. Lotze, Straszewski hoped for an inductive metaphysics and a Christian revival of the Western culture. Although he criticised Nietzsche's anti-Christian attitude, he also praised Nietzsche as a philosophical genius whose criticism and sincerity helped to expose the worthlessness of 19th century scientism and materialism. For Straszewski Nietzsche turned out to be both an enemy and an ally in the struggle for the only true religion.