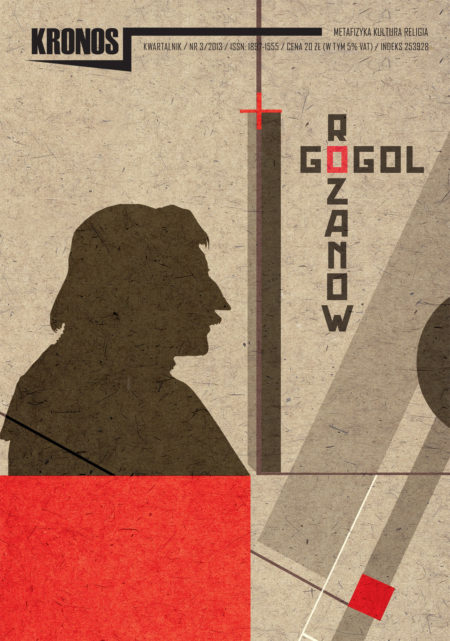 3/2013
GOGOL / ROZANOW
projekt okładki:
Dmitrij Szewionkow-Kismiełow
Piotr Nowak
A COLLOQUY ON THE END OF THE WORLD. THE LETTERS OF KONSTANTIN LEONTIEV AND VASILY ROZANOV
Konstantin Leontiev was an avowed enemy of superficial obligatory education since he believed that the educated masses are not able to take responsibility for what they know. Leontiev was a historiosophical pessimist: he saw history as a movement away from the initial simplicity of culture towards ever greater complexity (a process which he referred to as "the blossoming of multiplicity"), culminating in a state of cultural senility marked by a simplification and final eradication of the differences which keep cultures alive. He was of the opinion that cultural diversity is gradually being replaced by a devilish homogeneity. In his correspondence with Vasily Rozanov he reveals himself as a fascinating and radically conservative thinker who is sometimes seen as the precursor of Nietzsche.

Mikołaj Wiśniewski
HALF-MNEMOSYNE. THE PROBLEM OF MEMORY IN THE WORKS OF VLADIMIR NABOKOV
Mikołaj Wiśniewski discusses Vladimir Nabokov's first novel, Mary, published in Berlin in 1925. He focuses on the ambiguous nature of memory whose power to evoke the past often depends on employing literary cliches and cinematographic techniques. Furthermore, Wiśniewski points out that Ganin – Mary's main protagonist – cannot be taken in good faith as a guileless memoirist, but betrays certain symptoms which make him akin to the famous psychopathic characters of Nabokov's later novels – Hermann in Despair or Humbert in Lolita. Finally, the author looks at Nabokov's attempts to clearly distinguish between "good" and "bad memoirists" and shows that this distinction is untenable, even in Nabokov's autobiography Speak, Memory.

Tadeusz Zatorski
PONDERING "THE GRAND ISSUES". THE CORRESPONDENCE BETWEEN RUDOLF EUCKEN AND MARIAN ZDZIECHOWSKI
Rudolf Eucken (1846-1926) was a professor of philosophy at Basel and Jena. In 1908 he received the Nobel Prize in literature. Eucken believed that the spiritual life of Europe has to be rebuilt through the construction of a new religious doctrine which would be partially based on Christianity but which would also take into account modern culture. Marian Zdziechowski (1861-1938) was a Polish philosopher and literary historian who worked in Cracow and Vilnius. He was one of the few Polish advocates of Catholic Modernism. Eucken and Zdziechowski corresponded with each other for twenty years (between 1903 and 1923), discussing various philosophical and religious issues. Zdziechowski was much impressed and inspired by Eucken's thought which he popularized in Poland. Eucken wrote reviews of Zdziechowski's books published in Germany. In 1907 Zdziechowski visited Eucken in Jena. The two men shared an interest in the Catholic modernist movement which was then developing in Europe and corresponded with its most prominent leaders such as George Tyrrel, Friedrich von Hügel and Antonio Fogazzaro.

Michał Rogalski
INTO THE SOUL'S INNERMOST RECESSES. ON MARIAN ZDZIECHOWSKI'S MEMOIRS
Michał Rogalski analyzes Marian Zdziechowski's memoirs which he wrote during the Great War and which, as the author suggests, are crucial to the proper understanding of Zdziechowski's religious thought. The memoirs are free of the jargon typical of professional philosophers of the time. Instead, Zdziechowski writes in a very personal way, presenting his own attitude towards Catholicism and Catholic Modernism (an intellectual movement which he strongly identifi ed himself with). Rogalski also reconstructs Zdziechowski's desperate attempt to redefine the notion of suicide in such a way as to cope with and understand his son's suicidal death.