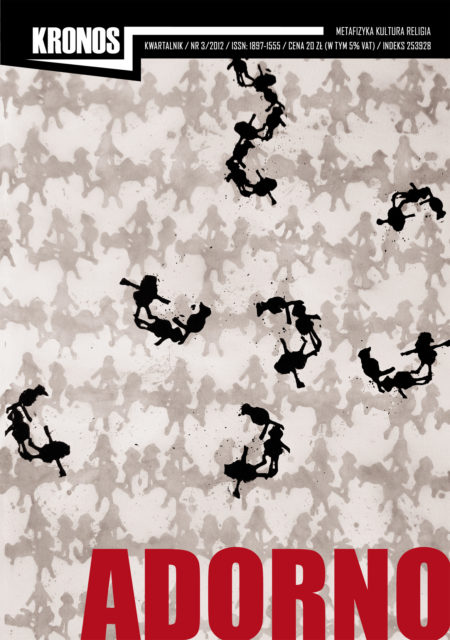 3/2012
ADORNO
projekt okładki:
Marek Chlanda
Szymon Wróbel
CRITIQUE, SATIRE, SARCASM – PETER SLOTERDIJK'S CARNIVAL
In his essay Szymon Wróbel tries to defi ne Peter Sloterdijk's position on the German philosophical scene and to account for his international renown. He examines Sloterdijk's media image as well as his self-imposed role as the jester of contemporary philosophy. Finally, Sloterdijk is presented as a disciple of Diogenes the Cynic. Wróbel asks if this stance allows the German philosopher to adequately grasp the contradictions of his age in which cynicism (or sarcasm) is sometimes treated as the very condition of truth.

Barbara Markowska
PHILOSOPHY AND THE NAVEL OF DREAMS. ADORNO AND DERRIDA
In 2001 Jacques Derrida received the Theodor W. Adorno award. In the speech which he gave on that occasion, and which may be treated as Derrida's philosophical testament, he acknowledged his debt to Adorno and the Frankfurt school, thus establishing a link between the German and French modes of philosophizing. What both traditions share is their attachment to the heritage of Hegelian dialectics as well as to the formulations of the "masters of suspicion" (Marx, Freud and Nietzsche). Adorno and Derrida are equally aware of how diffi cult it is to continue the Enlightenment project after Auschwitz – after an event which for ever resists the philosopher's attempts at conceptual analysis. At the same time, both thinkers stress the necessity of an enlightenment based on the achievements of the psychoanalytical "revolution". They also believe that thought can arise only within a particular language, at the meeting place of that which is general and that which is couched in a material idiom. This is the consequence of being's singularity and of the fact that it is not limited to waking consciousness only. But if the work of philosophy resembles that of dreams – i.e. is governed by the logic of desire which subverts the logic of consciousness – how can the language of philosophy become an efficient tool of universal reason.

Jakub Momro
AESTHETIC THEORY AS PROTODECONSTRUCTION
In his essay Jakub Momro points out that the later work of Theodor Adorno is impossible to understand without taking into consideration its relation to Hegel's philosophy. Adorno discovers in Hegel's formulations a way to transcend positively oriented dialectics which, although it treats negativity with due seriousness, does not underscore its importance in thinking about the nature of the object and the object's relation to subjectivity. From Hegelian logic Adorno draws out the fundamental concept of his own philosophy, namely – "the logic of non-identity". This leads him to ascertain the experiential, material and mediated character of metaphysical experience. In both cases Adorno's thinking runs along the lines of a creative deconstruction of the concept of totality.

Marta Olesik
CRITIQUE AND UTOPIA. THE MESSIANIC DIMENSION OF DIALECTICS IN THE PHILOSOPHY OF T. W. ADORNO
Dialectics is for Adorno both a blessing and a curse: it is a tool of redemption and at the same time demands of the philosopher uncompromising honesty which dismisses any dreams of utopia. Honesty is one of philosophy's cardinal virtues as it prevents it from slipping into ideology. Excess of honesty, however, can be damaging as it makes it impossible for imperfect humanity not only to gain paradise but even to hope for a purgatory. Marta Olesik shows how Adorno appropriates the Hegelian method and modifies it by transforming determinate negation into an absolute one – the absolute gainsaying of everything that dares to exists in a "damaged" world.

Andrzej Wawrzynowicz
THE PHILOSOPHY OF T.W. ADORNO AS A REVERSAL OF FICHTE'S THEORY OF THE ABSOLUTE "I"
In his essay Andrzej Wawrzynowicz presents the genealogy of Adorno's project of negative dialectics understood as a form of a radical metaphysical shift towards that which is essentially "un-identical" and "other". The author analyzes Adorno's ambiguous and self-contradictory attitude towards the idealistic heritage of classical German philosophy (the philosophy of subjective identity) and contrasts the basic ontological assumptions of Adorno's negative dialectics with the main tenets of Fichte's epistemologically oriented conception of philosophy.

Michał Pospiszyl
DEACTIVATING CAPITALISM. THE POLITICAL SIGNIFICANCE OF LOVE IN THE WRITINGS OF YOUNG MARX
In his essay Michał Pospiszyl argues that in order to understand the critique of capitalism offered by Marxism it is necessary to include the theological perspective. It enables us, claims Pospiszyl, to see the confrontation between Marxists and capitalists not only in the context of political economy, but also as a theological struggle between capitalism's mythical Whole (consisting of such phenomena as the Debordian spectacle, Benjamin's phantasmagoria or Marx's commodity fetishism) and messianic communism – understood not as some future state of affairs but as an actual movement. According to Marx and many of his disciples such a movement can only be based on love interpreted as a force of political change.

Aleksander Temkin
EUCLIDEAN REASON AND ETERNAL HARMONY
Adorno stumbles just before the finishing line. Despite his ascetic instinct he succumbs to the one and only temptation of "the magic of finality". In his essay Aleksander Temkin points to this negative Nietzschean spirit in Adorno's "asceticism of the image". He also suggests a subtle resemblance between Adorno and Dostoyevsky's Ivan Karamazov.

Bronisław Świderski
OF ANGER AND HATRED
In reference to the works of August Strindberg and Leszek Kołakowski, Bronisław Świderski argues that a new conception of language might be based on the phenomenon of anger. Anger is treated here as an important epistemological tool thanks to which entirely new dimensions of experience may be revealed. In Strindberg's case anger animates his critique of bourgeois and religious understanding of marriage and premarital relationships. Contrary to Strindberg, Leszek Kołakowski saw anger as a negative rather than an animating force: he associated it with hatred – a form of spiritual suicide which precludes the very possibility of writing. According to Świderski, Kołakowski's position – akin to Kantian formalism – is tediously moralistic, while Strindberg's writing is full of life and vigor.

Maria Tyl
THE UNITY OF THOUGHT AND LIFE. ROUSSEAU OR CAMUS?
Theoretical speculations can hardly be expected to gain popularity or have a wider impact if they are not rooted in or confirmed by praxis. It is in the context of this problem that Maria Tyl discusses Jean Jacques Rousseau's idea of returning to the state of nature (as presented primarily in his Confessions and Emile), referring at the same time to the work of Albert Camus (his novel The Stranger as well as the essays included in the collection Summer). Analyzing the relationship between fiction and life, Tyl writes parallel biographies of Emile-Mersault and Rousseau-Camus, and considers why primal naturalness is so elusive, if not altogether beyond civilized man's reach.

Mateusz Piotrowski
CAN MARXISM BE REDEEMED? LESZEK KOŁAKOWSKI VS. THEODOR W. ADORNO
In the first part of his essay Mateusz Piotrowski reconstructs the critique of the Frankfurt School offered by Leszek Kołakowski in his Main Currents of Marxism. Piotrowski juxtaposes Adorno's rebellious messianism and Kołakowski's theodicy based on the idea of homeostasis. Part two introduces the concept of "philosophy of labor" derived from the works of not only Kołakowski but also Stanisław Brzozowski and Marek Siemek. Because it treats history as a "human deed" it may seem opposed to theological thinking. From a certain perspective, however, human endeavors may be seen as erecting a "church of human brotherhood", i.e. constructing an "earthly absolute". Finally, Piotrowski delineates a vision of materialism which – if it is to overcome the tension between Adorno's utopian thinking and Kołakowski's anti-utopianism – must work out new principles of rationality.